Accommodation in Wörlitz and its Vicinity
There are numerous accommodation facilities of different classes in and around Wörlitz, we would like to present to you on the following sites.

As so far used you can of the left black navigation border an overview of the overnight accomodations provide and then directly the landlords contact.

In addition, they can book directly, by using the following form.
Visitor's Tax
The town of Wörlitz is a state-approved recreation place. In order to cover its expenses for the creation, purchasing, amplification, improvement, renovation, and maintenance of the establishments which serve tourism (tourism facilities), the town imposes a visitor's tax. This tax has to be payed-whether the tourist uses the facilities or not. Imposing charges and fees for the use of public establishments according to specific regulations will remain unaffected.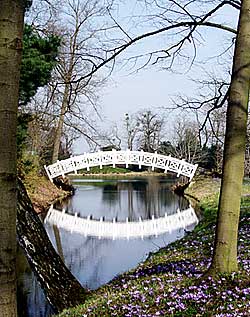 The amount of the visitor's tax to pay can be inferred from the "Satzung über die Erhebung einer Kurabgabe", the corresponding regulation of the imposition of a visitor's tax in effect.
(2017:
1.00 Euro
, reduced
0.50 Euros/Overnight stay
)
This regulation is open to inspection at your host's home or the hotel and, respectively, available at the Wörlitz-Information.
The payment of the visitor's tax will be made to your host.