The Synagogue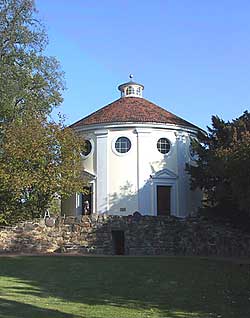 From 1787-1790 Prince Franz had a synagogue built on a small hill at the end of the alleyway "Amtsgasse" for the Jewish population of Wörlitz and Oranienbaum. The examplar of the round temple designed by Erdmannsdorff can be found in Rome by the River Tiber. Newer research shows that the Temple of Hercules Victor-and not the Vesta Temple and the Temple of Portunus respectively, as it was assumed before-served as an example here. Prince Franz, who had the Synagogue erected not far from the Christian Church, opined that both religions had the right to exist. Everybody had to be enabled to decide for himself which belief to follow. Franz only demanded to fight superstition. The Prince's mentality is also reflected in the inscription at the cemetery of Gröna, which is close to the city of Bernburg:

"Whether Jew, Pagan, or Christian, in death we are all equal; therefore, be and keep being human."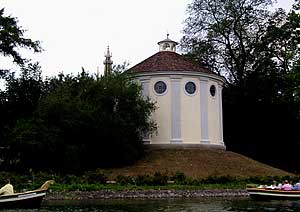 The furnishing of the Wörlitz Synagogue fell victim to the destruction during Kristallnacht in November 1938; however, the building itself could be saved due to the stout-hearted intervention of Hans Hallervorden, who was the garden director at that time. Since 2003 the Synagogue offers its guests an exhibition, compiled by the culture foundation Kulturstiftung DessauWörlitz and the association Moses-Mendelssohn-Gesellschaft Dessau e.V. The exhibition provides an insight into the Jewish history of Saxony-Anhalt.