The Town Hall
In the time from 1792 to 1795 the Town Hall was constructed by Friedrich Wilhelm von Erdmannsdorff. It belongs to those buildings in Wörlitz that have changed the townscape in terms of English landscape gardening. The Town Hall is located at the long-stretched market, which was designed like a Roman circus and was to form the connection between the town of Wörlitz and the Park.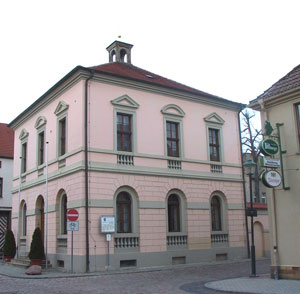 Couples from all over Saxony-Anhalt gladly get married here.

To remember the handing over of the Town Hall to Wörlitz by Prince Franz 200 years ago, a plaque was embedded in the footpath on 20th November 1997 in the presence of the Vice President of the German Bundestag, Antje Vollmer.

Originally Wörlitz was a Slavic construction of castles. The first document mentioning Wörlitz as a town originates from the year 1440. As the little agricultural town had been victim to several great fires during mediaeval times, only few traditional timbered houses are maintained today.

In the second half of the 18th century Wörlitz also became important outside the boundaries of the region, when one of the earliest and most beautiful landscape parks of the European Continent was created here under the reign of Prince Leopold III Friedrich Franz of Anhalt-Dessau. Henceforth, the little town with a population of almost 1,500 people evolved into a significant tourist town. Today Wörlitz offers appealing gastronomic establishments, as well as numerous good facilities for accommodation in hotels, guest houses, and private quarters.

In all actions taken for the development of the town the city fathers pay regard to preserving the small-town character of Wörlitz. Since the administrative reform and the municipal restructuring in 1994 Wörlitz belongs to the rural district of Anhalt-Zerbst. The town and the other communities of the association Wörlitzer Winkel formed an adminstrative association under the same name with its office based inside the Town Hall of Wörlitz.

In 2005 the adminsitrative associations Wörlitzer Winkel and Oranienbaum merged and since then have formed a grand association, the Wörlitzer Winkel, which is based in the town of Oranienbaum.

After the dissolution of the administrative district Anhalt-Zerbst, Woerlitz belongs since 2007 to the administrative district Wittenberg.