The Kitchen Building
In the immediate vicinity of the Castle the Kitchen and Home Economics Building was designed after the plans of F.W.v.Erdmannsdorff between 1770 and 1772.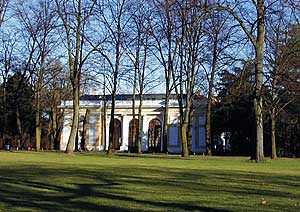 Towards the Castle the otherwise simple construction is faced with the Classical storefront of the Summer Hall. Having been vacant for a few years, the building could be re-opened to the public after the restoration in March 2000.
Today the Kitchen Building houses a Garden Kingdom store, a restaurant (in the former kitchen), and an exhibition. The subterranean connecting passage between the Kitchen Building and the Castle is also being used again. Guests, who take part in a guided tour through the Castle, will be released into the Kitchen Building through this passage.