The Gothic House
Apart from the Classical architectural style the Wörlitz Park also leveraged the neo-Gothic style in Central Europe. The Gothic House is an early example of this fact.
In several construction phases it was erected in the time between 1773 and 1813 after the plans and specifications of the builders Georg Christoph Hesekiel and Friedrich Wilhelm von Erdmannsdorff, as well as Prince Franz. The front of the main building, which lies on the canal side, is based on the facade of the Venetian church "Maria dell' Orto"; on the side towards the garden a construction from England, Horace Walpole's Strawberry Hill, served as an example.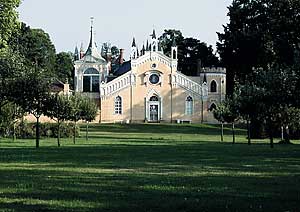 Originally erected as the gardener's residence, the Gothic House later on served as a refuge, museum, and Prince Franz's study place, in which his collections, among other things Swiss stained glass paintings from the 15th to the 17th century, as well as German, Dutch, and Italian painting from the 16th to the 18th century were stored. The furnishing and the interior are designed in the neo-Gothic style. In contrast to the Castle the Gothic House was not open to everyone at the time of Prince Franz. Today, however, it can be visited via a guided tour from April to October.