Eichenkranz-Inn "The Oak Wreath"
The Enlightenment programme that was realised in the Wörlitz Park attracted a great number of people interested in art, who wished to see this progressive, examplary creation. An eloquent expression of this fact was the enthusiastic call of the Belgian writer and diplomat Charles Joseph de Ligne (1735-1814):
"Gardeners, painters, philosophers, poets! Go to Wörlitz!"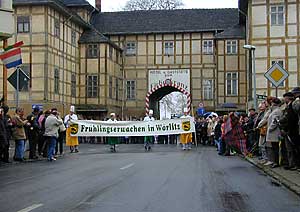 The Oranienbaum Palace, which had served as the guest house in the beginning, was no longer sufficient. Therefore, Prince Franz had the "Grand Inn" erected at the entrance of the town between 1785 and 1787, which was famous for its good view and the tasteful, modern furnishing of the rooms. The openness to the world of this Inn, later referred to as "Eichenkranz", was emphasised when the rooms where given the names of well-known and important cultural metropolises, such as Amsterdam, Herculaneum, London, Paris, Petersburg, Zurich, and others. Apart from the above mentioned de Ligne, the builders father and son Gilly, Schinkel, the poets Wackenroder, Tieck, Hölderlin, Novalis, and Körner were lodged here during their stay in Wörlitz. Today, unfortunately, the building is in very poor condition.
The society of the friends of the Dessau-Wörlitz garden Empire e. V. has accepted the building and almost completely monument just renovated with the help of grants and donations. The work should be completed in the year 2014.
Learn more about Eichenkranz-Inn "The Oak Wreath":
Deutsche Stiftung Denkmalschutz
We would appreciate it, if you could support the realisation of this nice and challenging task:
Donation Account »Eichenkranz«, Deutsche Bank Dessau
Bank Account Number: 70 30 703, Bank Sort Code: 860 700 24