Saint Petri Church and Bible Tower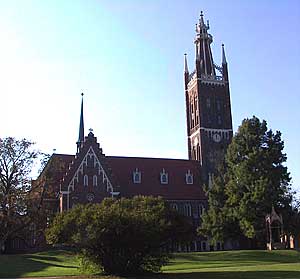 The highest building in Wörlitz is the Tower of the Saint Petri Church, situated on the border between the town and the Park, not far from the Castle. Originally there was a smaller Romanesque church in this place (built from 1196-1201), which had been endowed by Albert I of Brandenburg, also called The Bear, to support churchly life within the admininstrative association Wörlitzer Winkel. In 1532 the church reformer Martin Luther was preaching here in front of the princes of Anhalt. In the years between 1804 and 1809 Prince Leopold III Friedrich Franz of Anhalt-Dessau had the Church together with the Tower reconstructed and extended in the neo-Gothic style.

From the viewing platform of the 217-feet-high tower (66 m) the visitor has an attractive view of the town of Wörlitz, the Park, and the adjacencies.

Since 1994 the tower keeper's residence (inhabited until 1987) houses an exhibition of the Biblical story. Further information under: www.bibelturm.de.

The current exhibition is called:

"Between skies and earth".

The Saint Petri Church and the Bible Tower are always worth a visit.

The opening hours of the Tower you can also find here...