Guided Tours through the Wörlitz Park
The Wörlitz Park is composed of 5 garden sections: the Schlossgarten, which is the section around the Castle, Schoch's Garden, Weidenheger, Neumark's Garden, and the New Grounds. These are, for the most part, dissected by lakes and canals to be connected again through ferries, bridges, footpaths, and visual connections. The ever-changing garden scenes with the well-planned lines of sight can be experienced either on foot or from the water, sitting in a gondola. We highly recommend you to try both ways!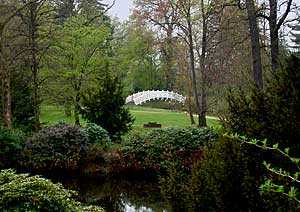 If you book in advance at the Wörlitz-Information, we can offer you guided group tours at a desired time, with miscellaneous topics, and, partly, also in English and French.
The Wörlitz Park is open to the public at any time and free of charge. Bicycle and carriage rides are not allowed on the Grounds. Wheelchairs can be rented in Oranienbaum (3.7 miles from Wörlitz, Phone: +49 3 49 04-2 03 66). The Wörlitz Park is being administered, maintained and managed by the culture foundation Kulturstiftung Dessau Wörlitz.
Adress:
06846 Dessau, Schloss Großkühnau
Phone: +49 3 40-64 61 50
Fax: +49 3 40-6 46 15 10
Web: www.gartenreich.com E-Mail: info@gartenreich.com
To give you an idea of the diversity of the tour, we will now present you the stations of the public guided park tours as an example:
Castle, Kitchen Building, English Seat, Church, Synagogue, Water crossing with the official ferry, Rock Island "Stein" from afar, Kneeling Venus, Root House, Italian Farmhouse from afar, Pontoon Bridge, Line of Sight Spinario-Shell Nymph, Golden Urn with "tolerance view" and view on the Elbe floodplain, Monument, Lake "Kleines Walloch" with White Bridge and High Bridge, Temple of Venus with subterranean section, Hermit's Retreat, Chain Bridge, Temple of Flora, Bridge Hornzackenbrücke, Gothic House, Wolf's Bridge, Ferry crossing to Rose Island, Ferry crossing to Neumark's Garden: View on the Rousseau Island, Labyrinth (Life's aberrations), Eisenhart.
During the tour the buildings will not be visited from the inside. This has to be done on a seperate tour. For the booked park tours a different route can be agreed upon at visitor's option, or the duration can be defined individually. These arrangements can either be made in the run-up to the tour or, as the case may be, during the walkabout. If you wish to do a guided tour of only 1 hour, you would need to decide about which garden section to visit; see above.
Public Guided Park Tours
For individuals, without reservation (about Wörlitz-Information)
1st April to 31st October daily at 13:00,
Meeting Point: in front of the Castle
Duration: 2 to 2.5 hours
For prices see "Admission Prices".
Booked Guided Park Tours
Advance notification with the Wörlitz-Information
Possible throughout the whole year
Meeting point and time by arrangement
Duration: about 2 hours
For prices see "Admission Prices".
Guided Tours of Wörlitz
Advance notification with the Wörlitz-Information
Possible the whole year
Meeting point and time by arrangement
For prices see
"Admission Prices"
.
Wörlitz-Information, Förstergasse 26
06785 Oranienbaum-Wörlitz, OT Wörlitz
Phone: +49 3 49 05-3 10 09
Fax: +49 3 49 05-3 10 10
E-mail:
info@woerlitz-information.de
---