Directions to Wörlitz
In the centre of Saxony-Anhalt, between the mountain range Harz, the Fläming, and the nature park Dübener Heide; at the Elbe River between the cities of Dessau and Wittenberg; at the motorway A 9 going from Berlin to Halle and Leipzig you can find Wörlitz.
Arriving by Car
Motorway A 9 Nürnberg-Berlin, exit Dessau-Ost or Vockerode (if you take the exit Coswig you need to consider the reaction ferry).

Motorway A 2 Dortmund-Berlin, exit Burg, continue on the federal highway B 184 until Dessau, then take the B 185 until Oranienbaum and you reach Wörlitz.


Coming from Dessau
By the Dessau-Wörlitz Railway leaving at the main station in Dessau, (seasonal)
By bus leaving at the bus terminal in Dessau, bus route 304,
By bike or foot on the Fürst Franz hiking trail.

With the help of the following map you can get an idea of your journey to Wörlitz. In addition to this, further sights of the Dessau-Wörlitz Garden Kingdom are shown here.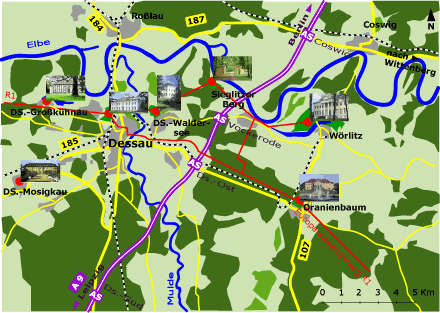 With the regular transport service (bus) journeys
Fahrplan-Linienverkehr,
Linie: 307 Gräfenhainichen-Oranienbaum-Dessau
Linie: 310 Wörlitz-Oranienbaum-Gräfenhainichen
Linie: 304 Wörlitz-Dessau
Linie: 304 Wittenberg-Wörlitz


Local traffic services Sachsen-Anhalt GmbH