Wörlitz invites you to visit one of the earliest and most important Landscape Parks of Continental Europe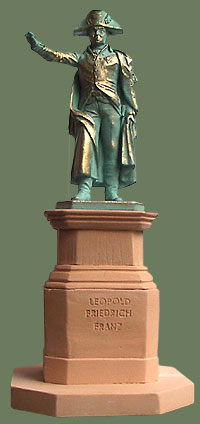 Built from 1764 until shortly after 1800, the Wörlitz Garden with an extent of 277 acres (112 ha) is not only one the largest but also one of the earliest and most distinguished landscape parks of Continental Europe.
Under the influence of civic Enlightenment, Prince Leopold III Friedrich Franz of Anhalt-Dessau (born in 1740 in Dessau; dead in 1817 at Luisium Palace) carried into effect a programme of reforms, comprising all spheres of life and transformed Anhalt-Dessau into an exemplary piece of land-a garden for the people. His work is especially visiualised in the Garden Kingdom of Dessau-Wörlitz with the English Garden of Wörlitz as the garden artistic acme of his creation.
After his first journey to England (1763-64) Prince Franz decided to design this landscape park. Further educational trips to England, Italy, France, Switzerland, and the Netherlands brought forward more and more new ideas for the garden artistic arrangement, in which the Prince himself often engaged in. Hence, the Wörlitz Garden became a pilgrimage place for the enlightened coevals.

In 1778 the 29-year-old Johann Wolfgang von Goethe wrote to Baroness von Stein about the "new" he found all around him in the Wörlitz Park:

"It is now endlessly beautiful here. As we wandered among the lakes, canals and forests yesterday evening, I was deeply moved by the way in which the gods had allowed the Prince to create all around him a dream. When one strolls through it, it is like the telling of a fairy tale; it has the character of the Elysian Fields. In the gentlest diversity one flows into the other; no elevation draws the eye and the longing to one single point; one wanders around neither asking where one came from nor where one was going. The vegetation is in its most beautiful May and the ensemble describes the purest loveliness."

While in the Baroque garden one walks towards the acme-the stately castle-the new experience comprises sidling, wandering around, and prowling through the park. The fundamental idea of this natural piece of art was to emblematise what the human mind and soul were able to experience in nature-and therefore tree and bush, water and rock, sculpture and architecture were applied. These features distinguish the Wörlitz Landscape Park from all other parks and make it a sui generis site. Also, Wörlitz soon was an example and motivation for the masters of German landscape gardening like Skell, Lenné, and Pückler. In great abundance the Wörlitz Park offers magnificent, ever-changing garden scenes with perfectly selected lines of sight and many artistic, historical, philosophical, and natural motivating spots, that present the visitor with new beauties and impressions, regardless of whether visiting the Park by foot or exploring it from the water, sitting in a gondola.