Lutherstadt Wittenberg
(14.3 miles from Wörlitz)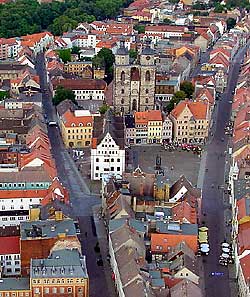 Significant changes regarding world politics and society had its beginning here in the Lutherstadt Wittenberg. In 1517 the church reformer Martin Luther nailed his 95 theses against the selling of indulgences to the door of the Castle Church. Through this, Wittenberg became the initial point of reformation, in which, apart from Luther, Philipp Melanchthon, Andreas Karlstadt, Justus Jonas, and Johannes Bugenhagen got together.


When walking through the Old Town, visitors will encounter evidence of this eventful history and notice Luther's companions at every turn. On the spacious market place one can find the monuments of Martin Luther and Philipp Melanchthon, the town hall, the town church (Luther held his first sermon here), and the so-called "Cranachhöfe", two former residences and working places of the German artist Lucas Cranach the Elder. Not far from here you can visit the Lutherhaus (Luther's former residence) with the most comprehensive and valuable collection of reformation history, as well as the former residence of Philipp Melanchthon. The historical Luther sites and the Cranachhöfe are part of the UNESCO World Heritage.

Newer sights are the Hundertwasser school, the »House of History« with an exhibition of everyday life in the GDR, the Museum of Natural History and Ethnology »Julius Riemer«, and the Butterfly Park »alaris«.

Apart from the general guided tours through the town of Wittenberg thematic tours are offered, with the night tour certainly being the most spectacular experience. During the round tour the visitor can listen to legends and stories and experience everyday occurrences from the mediaevel times by torchlight.

Web: www.wittenberg.de